The Badlion Client settings offer you the possibility to adjust the game to your preferences and enhance your gameplay experience to its finest.
How do I open the Settings?
Press ESC and click on "BLC Options". You can also press "Right-Shift" and press "Settings" in the top left corner of the menu.

Select the "Graphics" category.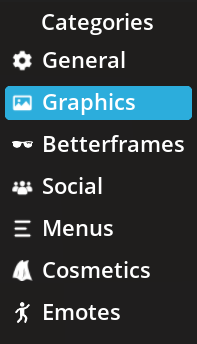 The Graphics category is split up into three parts, the "Graphics" part, the "Render Options" part, and the "Scaling" part.

The first section allows you to enable Scrollable Tooltips, adjust the Size Limit, the Max High and enable the "Persist movement keys in GUI" option.

At the top of the Render Options, you can enable the "Ore Overlays", the "Weather", and the "Dirt Screen".

Below that, you can center the "Potion Inventory", enable the "Borderless Fullscreen" and "Block Harvest Particles".

At the bottom of the Render Options, you can enable the "Model Bobbing Only" option, disable the Achievements, or even disable the "Crosshair in F5".

The last thing you can adjust in the Graphics Category is the "Global Scale". You can do this in the "Scaling" section of the Graphics Category.