First Step: Go into your Mod Slideout (Center or Side) and search for "BlockInfo"
Step Two: Activate the mod by clicking on the lower button

That's how the mod looks in-game, it will showcase the following:
Block Name

Block Coordinates

Best Tool to break

Speed to break

Light level
This the options the mod has.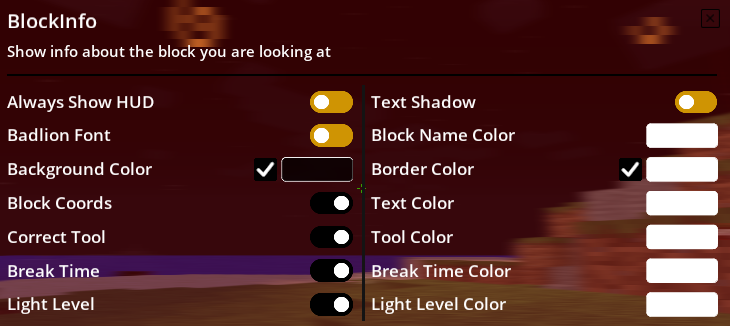 Always Show HUD - It will always showcase the mod even when not looking at a mod
Badlion Font - It will activate Badlion Font
Text Shadow - It will add a shadow to the text of mod. Warning: Might affect FPS depending on system.
Block Coords - Showcases the coords of the block
Correct Tool - Shows the best tool to break the block with
Break Time - Show how fast the block will break
Light Level - Showcases the Light level of the mod
Everything with "Color" on it, means that you can change the color of that text/background to make it look as you like!