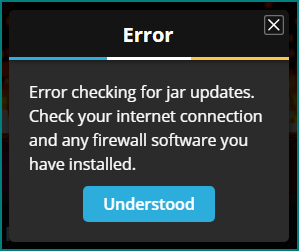 If you are getting this error message, it usually means that something is blocking the Badlion Client connections. Do the following:
Disable any firewalls that you have activated.

Disable antivirus. If you do not know how to disable your antivirus temporarily, we suggest using Google to find out how to do it.

If you are using a VPN, disable it.
If the same issue persists while trying to launch the game, try changing your DNS to Google's or Cloudflare's DNS. If you do not know how to do it, check the links below:
Note: make sure to check the correct guide for your operating system. If you have Windows, check the guide for Windows only.