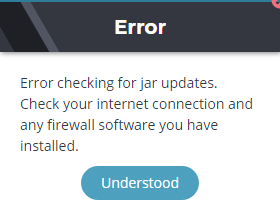 If you are getting this error message, it usually means that something is blocking the Badlion Client connections. Do the following:
Disable any firewalls that you have activated.

Disable antivirus.

If you are using a VPN, disable it.
If the same issue persists, try changing your DNS to Google's DNS (https://developers.google.com/speed/public-dns/docs/using).
If none of the previously mentioned solutions have helped, please submit a bug report through the launcher immediately after having this issue.