Resolving FPS issues
Minecraft is a popular game that can be run on a wide range of hardware, but some players may experience low FPS on older or less powerful computers. Here is a tutorial on how to fix sudden FPS issues (low FPS or FPS drops/spikes):
1. Try adjusting the Badlion Client Betterframes settings.
Open the Betterframes menu through the mods menu and play around with some settings. Enabling "FPS Boost", disabling entities, and reducing the player render distance are the first three options you should do to get more FPS.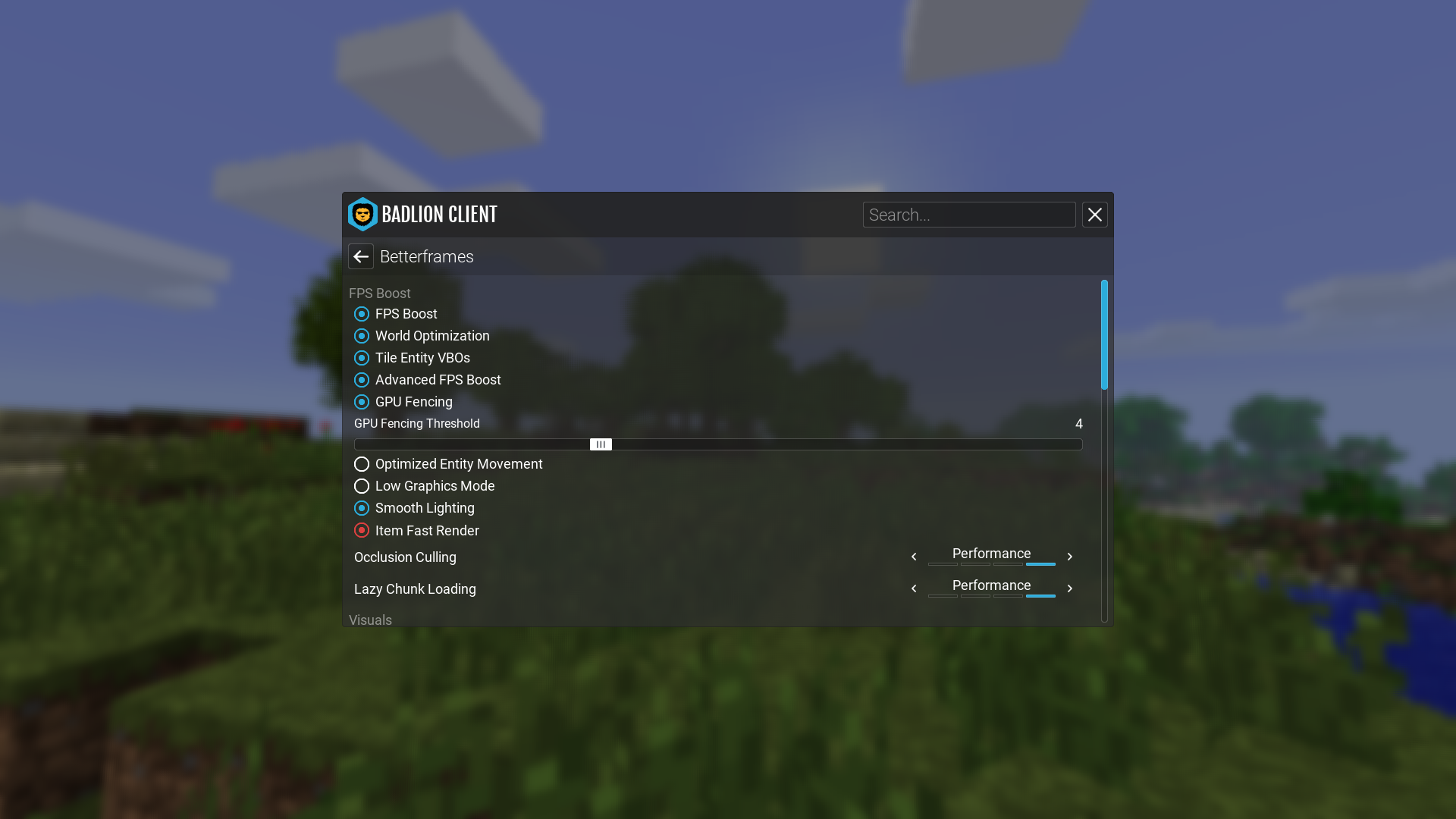 2. Adjust in-game settings.
Lowering the render distance, turning off smooth lighting, and reducing your graphics settings can help increase your FPS. We have made a blog dedicated to improving FPS by changing various in-game settings; you can find it here: click here.
3. Update your graphics drivers.
Make sure you have the latest drivers for your graphics card, as they often include performance improvements. If you do not know how to update your graphics card drivers, click here to open a tutorial.
4. Allocate more RAM to Minecraft.
Allocating more RAM to Minecraft can help increase performance. To do this, close Minecraft, open the launcher settings, locate the RAM slider, and move it to the right side to increase the allocated memory. Click here to open a tutorial.
5. Close background programs.
Running other programs in the background can take up valuable resources that your game needs to run smoothly. Close any unnecessary programs before launching your game.
6. Try turning Optifine off.
If turning Optifine off before launching the game resolves FPS issues, some Optifine settings may cause your FPS issues. If this is the case, you need to launch the game with Optifine enabled and reset your Optifine settings by clicking the "Reset Video Settings" button in Minecraft Video Settings.
What to do if the same FPS issues persist?
Suppose you still experience FPS issues and Badlion Client is the only Minecraft Client on which you have these issues. In that case, we suggest running the FPS profiler Log so our developers can check your logs, investigate the issues, and improve the game's performance in future Badlion Client updates. Click here to find a tutorial on how to run the FPS profiler Log.