Ping Mod
The Ping mod is a simple mod that will show you the latency between you and the server.
How to enable the Ping mod?
Press ESC and click on "Mods".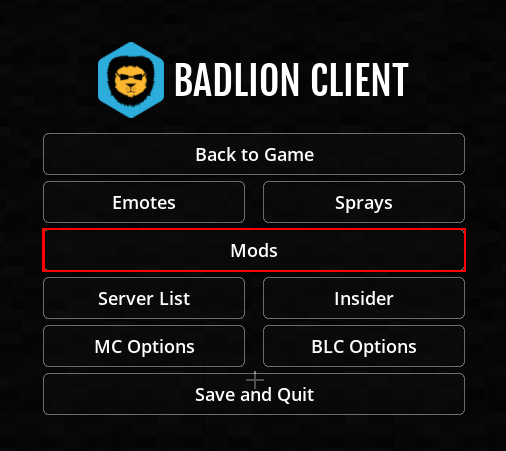 Enable the mod and click on it to open the settings.
Upon opening the settings, you will be able to switch between the "Fancy" and the "Simple" style of the mod. In addition to that, you can customize the text; please keep in mind that this only works with Insider.

Right below these options, you will find the General Settings. Here you can enable/disable and adjust the colors of the Brackets around the text.

You can also enable the Colon, the Text Shadow and set a border width.

At the bottom of the General Settings, you can also change the mode. You can use the appearance that features text, as well as an icon, or the appearance that only features text.
| | |
| --- | --- |
| Text: | Icon: |
| | |
Below the General Settings, you can find the Color Settings. These allow you to adjust the Color of the Background, the Background Border, the text, as well as the Icon to enhance your experience to its finest.

We offer even more customization! Simply open the Advanced Settings menu, and you will be able to adjust the Ping Mod even further.

You can enable the usage of the Server Ping, as well as the Ping Spike Detection at the top of the Advanced Settings.

Do you want to adjust your Medium Spike Color, as well as the Large Spike Color for the Ping Spike Detection option? No worries! You can do that right below.

You can also adjust the Thresholds right below the average amount of seconds.

You can also use the Badlion Font and hide the modification in F3.